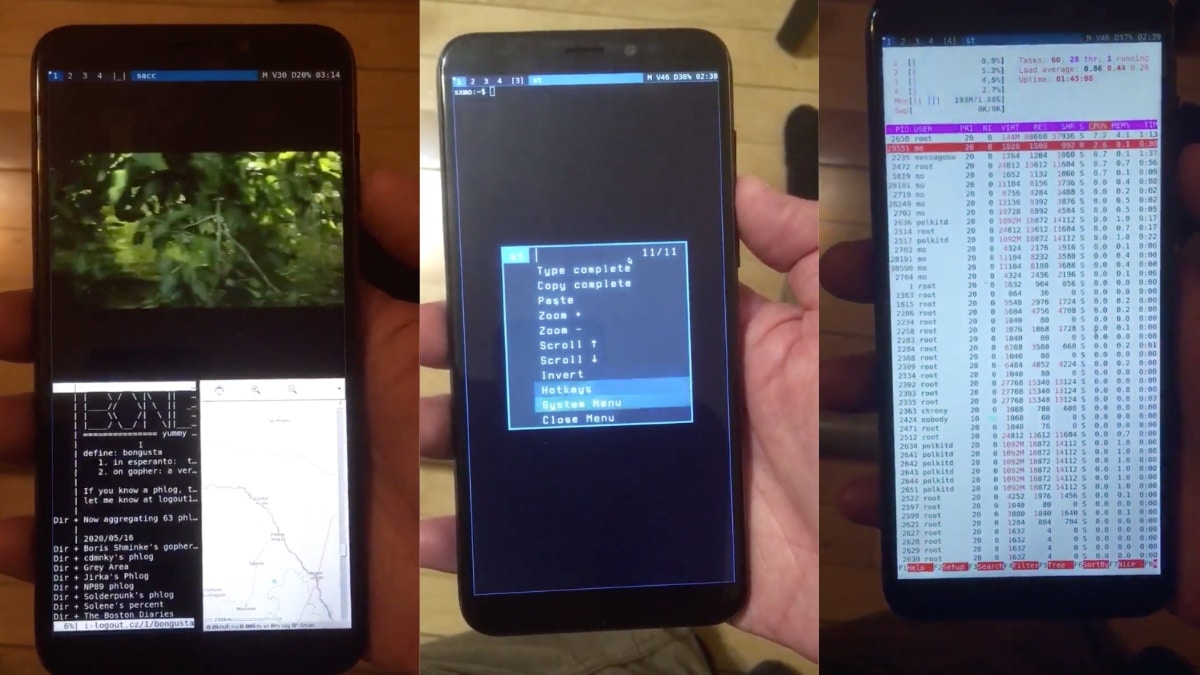 A lightweight PinePhone desktop for Linux phones
PinePhone is focused on supporting and bringing the Linux experience to smartphones. It gives you complete control over customizing the system to adjust it to your needs.
This is why several projects have started to support and bring more functionality to PinePhone, such as PineLoader and Jumpdrive.
Now Sxmo has also jumped on the bandwagon. Sxmo (Simple X Mobile) is a new Unix inspired project that creates a minimal desktop environment for PinePhone. It aims to bring a full and lightweight mosaic-based experience to Linux phones.
Simple X Mobile 'SXMO': Linux Desktop for PinePhone
The latest PinePhone Community Edition comes with Ubuntu Touch which includes a Lomiri desktop environment. However, PinePhone also supports multiple desktops such as Plasma mobile, PureOS, and postmarketOS.
Simple X Mobile is a new desktop addition to PinePhone developed by Miles Alan. He recently published a v0.1.0 which also includes several light and small X programs based on Suckless.
To control and navigate between windows, Sxmo makes full use of the volume and power buttons as well as screen swipe gestures. Currently, you can perform nine different actions by pressing successive quick buttons, such as activating the screen lock, launching the terminal, and the browser.
Meanwhile, you can also use swipe gestures to move between workspaces, different windows, and for other purposes. For example, three fingers swipe up / down to increase / decrease volume, and four fingers swipe up / down to increase / decrease brightness.
Sxmo also emphasizes several other functions that use buttons and gestures. Here is the list of features that Simple X Mobile currently offers:
Menu interfaces for selecting menu entries
Multi-layered responsive onscreen keyboards
Window management
Calls and SMS from a vim editor
SMS notifications / incoming calls
Lock screen
Menu scripts for countdown, YouTube audio and video, Weather and RSS
Web browser while saving screen space
Support for terminals with scroll, copy and paste, and reverse color
Other applications such as foxtrotgps (GPS), sacc (Gopher client), Firefox and Netsurf (web browsers)
System menus to control volume, brightness, camera, Wi-Fi, logout and launch applications
Application specific menus to adjust font size and zoom level
Login screen with on-screen keyboard
Images based on Alpine Linux and postmarketOS
For more information on the implementation and internal libraries, you can visit the official website here.
How to install Sxmo Desktop on PinePhone?
If you have a PinePhone device, download the Sxmo image from here. Then extract the image, write it to your SD card and start the PinePhone.
If you have difficulty, follow the installation guide for here and learn how to use it from the official manual.
Credit – Tuxphones